Born in Europe, Dina's childhood was consumed by World War II and the daily perils of wartime Nazi and post-war Soviet occupations. Her earliest memories are of life lived in terror, on the run and in hiding.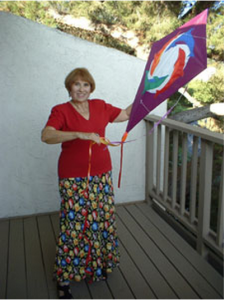 By the age of 15, Dina and her family were fleeing their native country only to end up in another war zone. Eleven years later, with family in tow, she settled in the United States where a successful career in journalism launched her into a globetrotting life — this time by choice.
An award-winning international journalist and radio broadcaster, Dina has traveled the world and written about places, people, business, sports, education and the arts. Dina's unquenchable curiosity and six languages also enabled her to gain insight into the characteristics of the eight countries (located on three continents) in which she has lived.
As a war correspondent, Dina again witnessed the devastation and futility of armed combat. This time, however, she decided to study the causes of conflict in the hope of finding some viable antidotes to it.
Her quest resulted in the development of PeaceTalk™, a system of communication skills that transform antagonists into collaborators by redirecting them from combat and conflict to productive brainstorming and win-win solutions. Extensive and successful field-tests of this system were followed by the publication of Dina's book, "PeaceTalk™ –A Guide to Harmonious Relationships."
Dina has taught PeaceTalk™ skills to faculty, school counselors and students in the San Diego public school system; and to undergraduate and graduate students at the University of California/San Diego (UCSD), San Diego State University (SDSU), and National University.
When businesses and non-profit organizations began to show interest in PeaceTalk™, Dina custom-designed seminars and workshops for their management and staff. Today, her client list is even more eclectic, ranging from
• convention and professional groups — ("PeaceTalk™ for Nurses/Healthcare Providers," "PeaceTalk™ for Teachers," etc.); to
• families — ("PeaceTalk™ for Parenting/Bridging Generations");
• couples — ("PeaceTalk™ for Lovers") and
• individuals.
The skills that empower PeaceTalk™ practitioners to improve their lives include collaborative listening, stress-free confrontation, and non-manipulative negotiation.
"It is important to remember that we cannot control our emotions–at least, not directly–but that we are fully capable of controlling our thoughts. Thoughts can control emotions. Emotions follow obediently when thoughts take the lead, just as a kite's tail follows a floating kite. 
While we are occasionally able to ignore, deny or repress our emotions, we can only do so temporarily. Sooner or later, pent up emotions will break through, with a vengeance. We can, however, use our thoughts to tame them. Take charge of your life by letting your thoughts direct your emotions–and not the other way around."

Dina Eliash Robinson
So…
* If you experience fear, hostility or isolation in your workplace 
* If there is chaos or misunderstanding in your home
* If your social life causes stress and insecurity
…contact Dina Eliash Robinson and find out how you can change
* fear to assertiveness
* hostility to collaborative interaction
* isolation into companionship and community
* chaos into focused calm
* misunderstanding into clarity
* stress into relaxation and
* insecurity into empowering, assertive self-confidence
…quickly and permanently, for as long as you communicate the PeaceTalk™ way.
Dina invites you to learn and use PeaceTalk™ skills  as your basic tool with which to Create World Harmony One Person At A Time.
CONTACT:
Dina Eliash Robinson
P.O. Box 2688
La Jolla, CA 92038
Email: dinatalk@gmail.com